HOCKEY EASTERN ONTARIO
One Team, One Mission, One Goal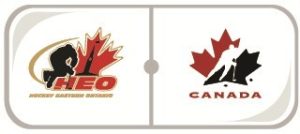 HEO Bulletin
To: HEO Board, District Chairs, MHA Presidents, HEO Staff From: Debbie Rambeau, Executive Director
Date: October 11, 2023
Re: HEO Dressing Room Policy – Final Update
At this time, HEO will NOT be moving forward with the new Hockey Canada Dressing Room Policy announced last week.
HEO, with its Ontario Member partners the OHF and HNO, will take some time to work to ensure the two policies (the Hockey Canada and our current dressing room policy) are aligned. This is important given our legal obligation to continue respecting our current policy which arose from the decisions of the Ontario Human Rights Tribunal. Once this work is completed, we will communicate any changes to our members with adequate notice to support understanding and implementation of such changes.
Should a future transition be made by HEO to the Hockey Canada Policy, the requirements will be addressed between the two policies with adequate notice to be announced ensuring all changes are made with due diligence.
Attached to this Bulletin:
Important Note: new concepts and practices require an open mind, time, a willingness to ask questions, and patience. It is not about being perfect but being respectful.
Thank you for your commitment to the implementation of these Policies.