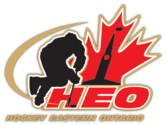 For Release
September 23, 2022
Ottawa, Ontario
HEO High Performance AAA programming will undergo a program reset for the 2023-24 season. Substantive changes to the current AAA program structure are planned. Our goal is to provide a unified and high level AAA player development experience from U12 to U18 across the Branch, in keeping with Hockey Canada's development standards.
As part of the new direction, broad consultation with our member stakeholders will take place. A detailed Action Plan will be unveiled in the coming months and the new AAA structure will be in place for the 2023-24 season. Current programming will continue as outlined in the U18 AAA Program Delivery Agreement with the Central Canada Hockey League (CCHL) and in HEO's AAA League for the U15-U12AAA divisions for the duration of the 2022-23 season.
We appreciate the support of the membership as we strive to provide exceptional player development experiences across our region. We look forward to collaborating with you as we finalize the AAA Action Plan for the 2023-24 season.